Tuesday, June 21, 2005
We saw this guy tonight
I figured out a way to drastically improve the appearance of my charts, and let me tell you that what I am doing differently is miniscule compared to the improvement. So I decided to update this chart to include tonight's game. Big Papi put a hurtin' on Millwood PEI's tonight:.655. Kevin Millwood's new average is .490
This graph only goes up to .8 because Kevin Millwood's worst start came on 5/14 at .706, that's 12 bases/17 batters. I should tell you that 4 of those bases were stolen. People love to steal against this guy. He has given up 11 stolen bases in 11 starts, and caught only two. Also worth mentioning, Kevin was recently on the 15-day DL because of a groin issue. I will try to find out more, but don't expect much; guys don't tend to be very specific in this area.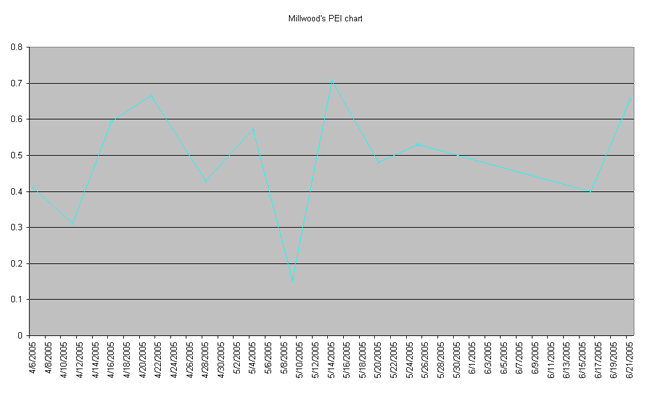 Kevin has only had one start since his groin recovery, which scored a very respectable .400, 8 bases/20 batters.
His best start was on 5/9, at .154, 4/26. That was only 1 hit (a double), folks, in eight innings against the Angels. The other baserunner was hit by a pitch, and stole 2nd.
Kevin's average PEI is .472. (vs. Bronson's .460)
Overall I'd have to say this guy's pretty good on paper, and fairly consistant. He's 2-4, but his ERA is 2.95. Hopefully our boys can hit him.
edit, 7:20 pm:
I forgot to mention that Millwood walks about 2 per game. He has not walked more than 2 in a game this year. He has already walked two sox, and has pitched only one inning.